A MlleCafeAuLait EXCLUSIVE!
YOU'VE SEEN IT HERE FIRST!!
Smart watches and wearable technology are the NEW, NEXT and the NOW!
Yes, I own an Apple Watch:
(This Space Gray APPLE WATCH is mine....of course I would choose BIKER CHIC!)
However, I found the available Apple Watch band(s) were not my taste or style. Since I already have two BRACELET STYLE "Watch Bangles", why not continue this ARM PARTY with an APPLE WATCH Bracelet version!
So, introducing A NEW kind of ARM CANDY!!! Chain Link Jewelry is making its way back! Trendy, but with STAYING POWER!! This Multi-Strand Watch- Bracelet/Band/ Strap makes an elegant statement on its own! PERFECT for layering; you can mix them up with your other bracelets if you like. Perfect for when you want to be Classy and Sophisticated! However you "rock it", you will certainly be noticed!
This Chain Link Watch/ Bracelet is made with 10 rows, 20 stands of Shiny Metallic Lightweight* Curb Chain Link, along with a 5 ring magnetic bar clasp for easy attachment. Each watch will arrive fully assembled, INCLUDING a 38MM interchangeable Apple Watch band adapter (42MM available upon request. Contact me proir to sale.)
AVAILABLE COLORS:
38mm Black/Gunmetal
38mm Matte Champagne/Gold
(See DROP-DOWN for color availability)
***Fits most wrists.***
Chain Link Apple Watch Bracelets are MADE TO ORDER, so please measure your wrist accordingly prior to purchase. ALSO, any sizing questions or concerns, PLEASE inquire PRIOR to checkout as well.
You may include WRIST MEASUREMENT in order comments. Since bracelets are CUSTOM MADE, please allow up to 2 weeks for assembly and delivery.
Don't have and APPLE WATCH? Click below for additional watch styles:
"Watch-let" #1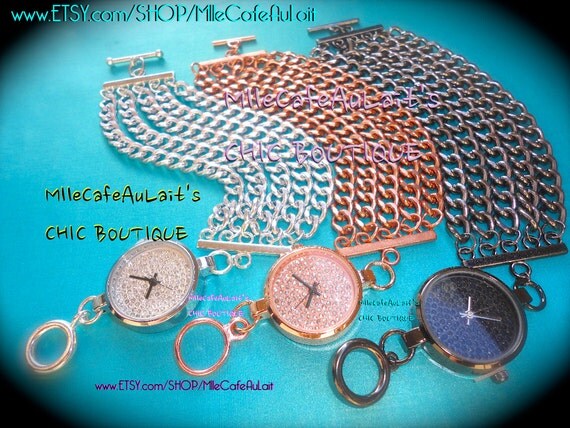 WATCH-LET #1
by MlleCafeAuLait
"Watch-let" #2 :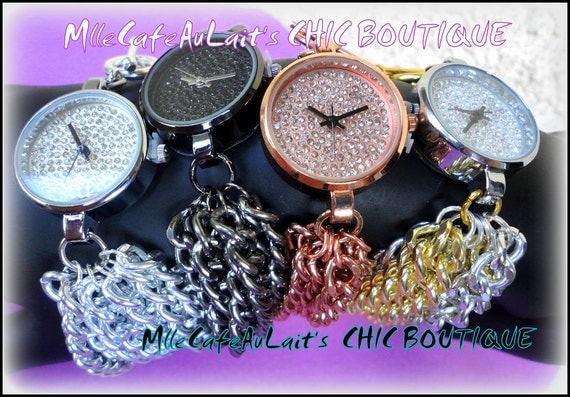 WATCH-LET #2
by MlleCafeAuLait
DISCLAIMER(s)
-This is NOT an official APPLE product.
-MlleCafeAuLait's CHIC BOUTIQUE online ETSY shop is NOT responsible, nor to be held liable for ANY Apple Watch malfunctions including but not limited to: hardware, software, wear and tear, loss, theft, vandalism, as well as incidental and consequential damage pertaining to Apple Watch functionality.
-Watch-let is made with Aluminum Chain link. Aluminum Chain Link is super lightweight, yet strong and durable, and will not tarnish. As with MOST "colored" Aluminum Chain Link, color is adhered with a baked, coated enamel finish. Due to the nature of "colored" chain link, slight scuffing may occur. Aluminum Chain Link is marketed as "TARNISH FREE", however accompanying jewelry components ARE NOT WATER PROOF. I DO NOT recommend wearing in water.
(As with all metal, many other external factors such as moisture, make-up, hair products, heat, sun, perspiration etc, may alter color after prolonged exposure . Seller is not responsible and will not issue refunds or exchanges for this product.)
Please see SHOP POLICIES as well as SHOP ANNOUNCEMENTS for any additional shipping and handling, transit, and international order questions.
___________________________________________________________________________
https://www.etsy.com/listing/262648752/multi-strand-chain-link-watch-strap?ga_order=most_relevant&ga_search_type=all&ga_view_type=gallery&ga_search_query=apple+watch+bracelet&ref=sr_gallery_2